All signs point to Lodi Wine Country this weekend! So, pack your bags or call the babysitter because Lodi Wine is hosting a Tour of Albariño. Beginning today, August 10 through Sunday, August 12, nine participating Lodi wineries will pour Albariño and offer a unique tasting experience to guests!
The weekend, is a perfect example of how Lodi is not just a Zinfandel juggernaut. While affectionately known as the Zinfandel capital of the world, Lodi is home to over 100 varietals of grapes and the region's winemakers are skillfully making exceptional wines from different varietals…with great success! In fact, Spanish varietals are flourishing in Lodi Wine Country and that includes Albariño. Stylistically, Lodi Albariño wines tend to be highly aromatic with notes of citrus and stonefruit and a refreshing acidity that makes for the perfect summertime sipper. And with this heat wave, we are going to need it!
The Tour of Albariño is self guided, and you can pick up a guidebook at any of the nine participating tasting rooms or the Lodi Wine and Visitor Center. At every stop, be sure to get your guidebook stamped, as each stamp enters you into a raffle! Sounds like fun, right?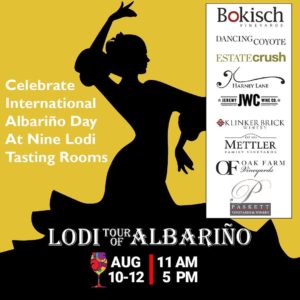 Bokisch Vineyards
Without Markus and Liz Bokisch, owners of Bokisch Vineyards, there wouldn't be Lodi Albariño. In 1992 the two went to work in the Spanish Wine industry. Then in 1999, they used their Spanish connections to begin importing budwood to Lodi and planted the Las Cerezas Vineyard, known as their "motherblock," of Tempranillo, Albariño and Graciano. For this weekend, Bokisch Vineyards will offer a side by side tasting of three different Albariño vineyards: the Terra Alta, Las Cerezas and Andrea Island. They will also offer a special three pack of Albariños for the weekend and all tastings of Albariño will be complimentary for participants. This is a must stop folks!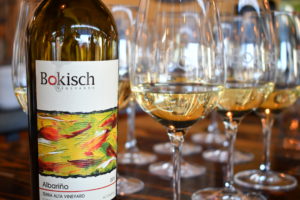 Estate Crush
Estate Crush is Lodi's premier Custom Crush facility will be pouring their Albariño for participating guests! Located on the edge of Downtown Lodi, the tasting room is modern and an Instagram users friend, with natural lighting and the coolest tables which are perfect for evaluating color in wine. Their wine is crisp and dry with bright citrus, hints of light green apple and tropical aromas. They will also offer complimentary tastings of the Albariño as well as a reduced price for their current vintage!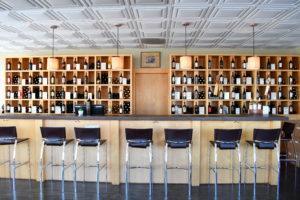 Harney Lane
Where do I begin? Harney Lane is of my favorite places to taste, shop and be greeted by the smiles of the gals pouring behind the bar! Seriously, these folks know how to make great wine and make you feel at home. They will be pouring their award-winning estate grown Albariño and will also offer a sensory feature. This wine is a local favorite and doesn't last long in the tasting room. The Albariño vineyard is located just behind the tasting room…so you might be able to catch a glimpse of this year's crop before it's harvested!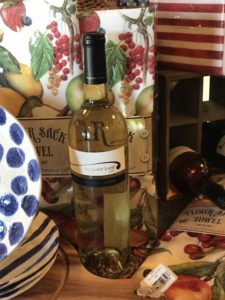 Jeremy Wine Co.
Nestled in charming Downtown Lodi, sip inside the tasting room or make yourself comfortable on what might be the BEST patio in Downtown. Jeremy Wine Co.'s Albariño is aromatic with fresh citrus, stone fruit and floral notes. Experience a complimentary Albariño tasting and 20 percent off bottles of Albariño for the weekend. You never know, you might even get a chance to meet Jeremy!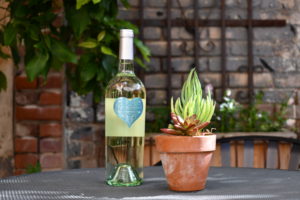 Oak Farm Vineyards
Visit one of Lodi's most stunning wineries, Oak Farm Vineyards, for a tasting of their award-winning Albariño. A medium bodied wine with tart green apple and minerality, this wine usually sells out quickly. You will definitely want to take advantage of their cheese selections available for purchase. Parties of six or more do require a reservation.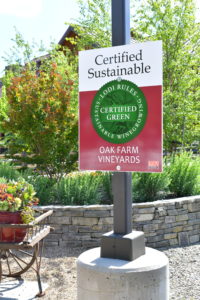 Klinker Brick Winery
One of Lodi's most well known wineries—and for good reason! They might be famous for their classic Klinker Brick Zinfandel or Farrah Syrah, they have added a variety of other fabulous wines to their portfolio. Their Albariño is pale and light as a feather. With aromas of citrus, green apple, white peach, with crisp acidity. Be sure to check out their fountain or grab a seat on the patio for an intimate experience.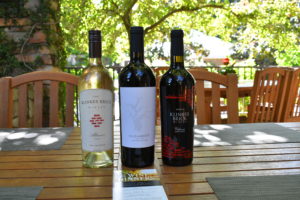 Paskett Vineyards and Winery
Paskett will pour their 2017 Albariño, with floral undertones, stonefruit and lemon with bright acidity for balance. They will also pour their 2017 Chingona, an Albariño based Blend. The tasting will be paired with tasty selections from the Queen of Lodi cheese, Cindy Del Monica, owner of Cheese Central. The tasting room is located on Woodbridge Rd. at the historical Langford Estate.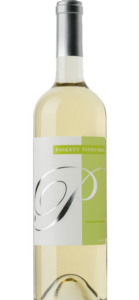 Mettler Family Vineyards
The Mettler Family Vineyards tasting room is surrounded by a lovely 18 acre vineyard with lush gardens, a pond and plenty of tables to enjoy a picnic. And while they made a name for themselves making red wines, their Albariño is equally as impressive. A dry, light bodied wine with fresh juicy pear, hints of apple and bright acidity to boot! You can bring along some cheese, fruit and crackers to enjoy on their patio!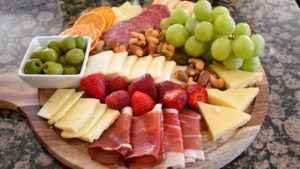 Dancing Coyote Wine
Dancing Coyote will pour their 2017 Albariño which has aromas of passion fruit, peaches, bright citrus and honey. The fruit is sourced from Clarksburg and It's also a serious steal for $11.99.

So if you are interested in geeking out on all things Albariño, make a trip to Lodi Wine Country this Friday, Saturday and Sunday! These wines will blow you away and you won't regret coming to Visit Lodi!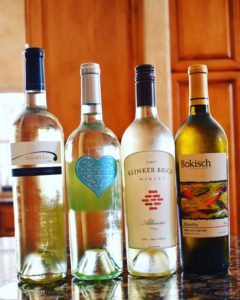 For more information head to http://lodispanishwinetour.com/
Disclosure…three of these wines were sent to me as samples.
Cheers,
The Fine Foodie Philanthropist
Suzanne Ledbetter