Markus Wine Co. Makes his Mark on Lodi Wine's Legacy
Niggli Releases Red Wine Line-Up, Adds to Already Stellar White Wine Collection
I need you to read this carefully…Markus Niggli is a visionary. Read it again. Markus Niggli is a visionary. He is changing the landscape of Lodi Wine with his unique perspective to wine making and distinctly nuanced style.
So, when I was offered an opportunity to sit down with Markus Niggli, past winemaker of Borra Vineyards and current Winemaker/Proprieter at Markus Wine Co., I jumped at the chance! After all, this guy hails from Switzerland and has been traversing the world in search of the perfect home for his own wine label.
I think it's safe to say that Lodi is lucky he landed in its backyard. And while he is known for his off-the-wall German varietal white blends, he recently released inaugural vintages of his own red wine under the Markus Wine Co. label. And even luckier, is the fact that these wines tell a story of the terroir, quality and elegance Lodi wines can offer.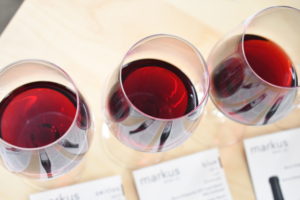 Niggli is a storyteller. Carefully examine each wine label to learn of a time and place representing different stages of his life's journey. Take for example, the Nimmo. This bottle of wine is an homage to the place where he got his start in viticulture, Perth Australia. Niggli believes in including detailed descriptions of the wines on every bottle. This way, consumers don't have to scurry to the website to discover what's in each blend and at what brix the fruit was picked.
So, let's get down to the nitty gritty of the wines. While the labels denote some higher alcohol levels…I can assure you, these wines tell a different story in the glass. They are balanced, elegant, food friendly wines that will blow your mind and put to mind any pre-conceived notion of what kind of wine is produced in Lodi.
We began with a tasting of the whites. I had tried several of these before, but not all of them, and I was eager to delve in.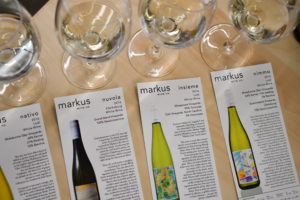 First up was the Nativo, an aromatic Kerner based white wine. This field blend boasts Kerner 69%, Riesling 21% and Bacchus 10%, all sourced from Mokelumne Glen Vineyards. The Kerner is the only known vineyard in all of California. And the label, which I promised was a running history of Markus's life travels, contains the postal code for his hometown of Weesen, Switzerland, along with the initials of Markus and his brothers Konrad and Bernhard. The Nativo is produced in stainless steel with layers of citrus, minerality and stone fruit. Nativo begs for a food partner…think ricotta with lemon zest on a baguette with fresh thyme or your basic chicken piccata.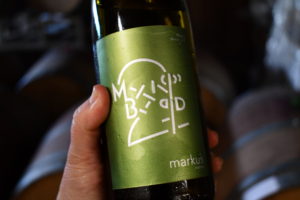 Next we tried his Nuvola, a Gewurztraminer from Clarksburg and Insieme, another white wine blend of 95% Torrontes from Silvaspoons Vineyard and 5% Traminette. The Insieme is a fascinating partnership where Markus sources 5% of the Traminette from Cain Vineyards in North Carolina. A true story of east meets west.
Another of Markus Wine Co.'s signature white wines is the Nimmo. With 64% Kerner, 16% Riesling, 5% Bacchus coming from the Mokelumne Glen Vineyard and blended with 15% Gewurztraminer from Grand Island Vineyards in Clarksburg. The wine spent five months in 60% new French oak on lees and 35 days in stainless steel. There were striking notes of lemon and melon. Markus then explained with certainty that he is the only winemaker in the United States to age German varietals in oak. The crazy thing is-that it works. It really does.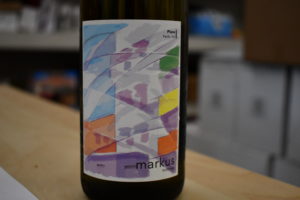 Now for the new kids on the block. Markus Wine Co.'s red wines. If the lack of sunny skies this spring has you screaming the blues…reach for Blue! A fruit-forward blend of Zinfandel, Petit Verdot and Petite Sirah that is down right delicious. The name Blue, pays homage to Markus's time spent tending and harvesting blueberry bushes for thirteen months in Pohangina Valley, New Zealand. The Old Vine Zinfandel hails from Borra Vineyard's Gill Creek Ranch, planted in 1968. On the nose, Blue expresses bright fruit and a peppery finish with dried plum. This wine has soft tannins, hints of caramel and fruit-forward chocolate. It comes in at a whopping 16.5% alcohol, but I dare you to try and blindly tell me its over 15%. I wish I could tell you how he does it, but the result is a soft, gentle fruit-forward wine with balanced tannins. This wine is age-worthy and incredible. Get your hands on it while supplies last. It's definitely one of the most food-friendly wines I've tried.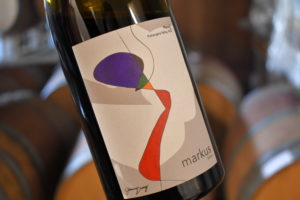 My favorite wine of the pack was probably the Northern Rhone style red, Zeitlos. This blend of Syrah,  Carignane, Petite Sirah and Viognier. The grapes are co-fermented, which allows for Niggli to extract the color while allowing the funk of the Rhone varietals to shine through. The Zeitlos comes in at 14.6% alcohol. With dark plum, cherry and rich tannins, this wine will age beautifully. It is definitely a bottle I want to drink again!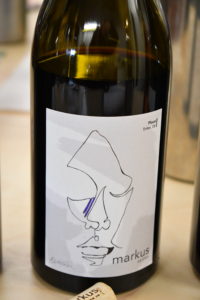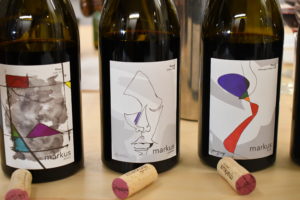 The 2015 Sol consists of 42% Petite Sirah, 37% Syrah Clone 877 and 21% Mourvedre. I wasn't surprised that it received 94 points from the Wine Enthusiast, Editor's Choice. Sol is bold, big and ripe with dark fruit. Look for blackberry and cassis, tobacco, and damp earth. I'm thinking red meat or grilled lamb chops would be a perfect pairing for the Sol.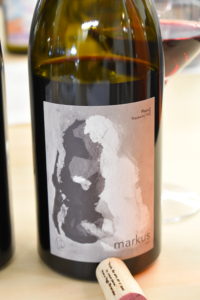 I also thoroughly enjoyed the 2015 Domo. A red wine blend of 75% Carignane, 15% Petite Sirah and 10% Syrah Clone 470. Carignane was one of the first varietals I tried when I moved to Lodi 12 years ago. I liked it then, but I really love it now. Dark fruit, hints of pepper and a long finish prove that atypical wine varieties can be delicious when crafted by talented winemakers like Markus Niggli. Enjoy this wine on a cold winter's night with some beef stroganoff.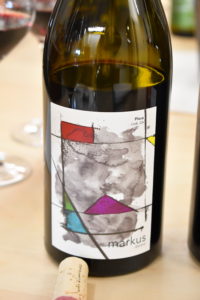 In each of the four red wines, the fruit profile was in the forefront. But not in a knock-your-socks off kind of way. These are lean European style wines that showcase sophistication, exemplify Lodi's terroir and truly left me wanting more. Niggli firmly believes food and wine should be enjoyed together. His wines are proof positive that he practices what he preaches!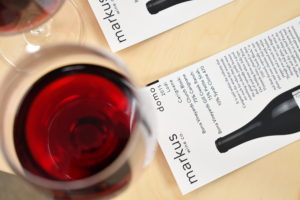 My advice to you is this…get your hands on some or all of Markus Wine Co.'s line-up and spend a few weeks tasting your way through his portfolio. You won't be disappointed.
You can follow Markus Wine Co. on Instagram, Facebook or Twitter. You can also read more about him at www.markuswine.com
Cheers,
Suzanne Ledbetter
Fine Foodie Philanthropist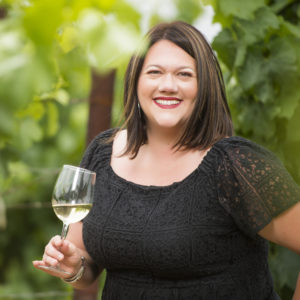 ---