There are wineries…and there are destination wineries. Daou Vineyards, perched atop the highest peak overlooking Paso Robles Wine Country is both.
A couple of weeks ago I had the opportunity to visit and I was overwhelmed by the incredible views, wines and cuisine. If you haven't visited, I can tell you Daou Vineyards rests at an elevation of 2,200 feet in the heart of the Adelaida District, a sub AVA of Paso Robles. Upon arrival, the Grand Villa awaits, begging for visitors to experience panoramic views of the entire valley below.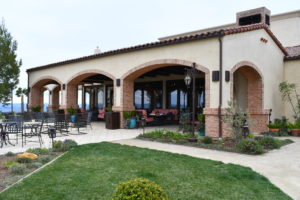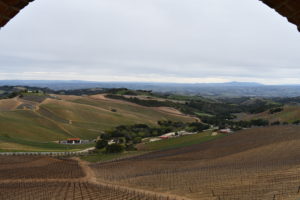 On our visit, the weather was uncharacteristically chilly with intermittent showers, but we made the best of our day at one of Paso's premier wine destinations. This wasn't a challenge given that the Daou staff provided us with plush branded blankets and turned on the fireside table to warm us up (and to be clear, we could have sat inside, but I had to experience the views).
Micah, our hospitality host, graciously led us through our tasting and offered us up the option to try some of their food pairings. Daou offers a Mezzo Platter, Cheese and Charcuterie Board and up to 5 entrée options to pair with their wines.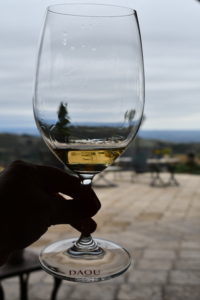 We decided on the Cheese and Charcuterie Board to begin. I can confidently say that I have never had a more cerebral Cheese and Charcuterie Platter. This board was boss! Every detail and accompaniment served a purpose…and a dutiful one. It featured four distinctly diverse cheeses: Central Coast Creamery's Seascape, Bishop's Peak, Big Rock Blue and Brillat Savarin. The charcuterie showcased Jamón Serrano, Smoked Pancetta, Iberico Chorizo, Duck Rilletes and Cider Braised Chorizo. The brininess of the estate grown Daou olives were a perfect addition to the board, along with the raw honeycomb, walnuts, fig jam, pepper dew peppers and rustic baguette. I thought the stone ground mustard was especially delightful with the wine pairing…but wait we ordered more!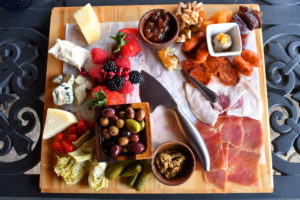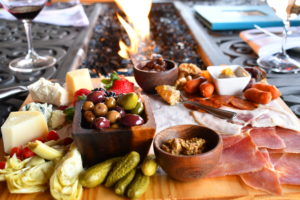 The Mezzo Platter was equally impressive. Featuring a pomegranate garnished hummus, Mahummara Baba Ganoush, Labneh Cheese with Za'atar, Olive Tapenade and Boozy Medjool Dates…With the Mezzo platter, Daou pays homage to their Lebanese ancestry. The pairing stood up to the bodacious Daou wines and instantly left me asking, "Why don't more wineries offer this detailed of an experience?"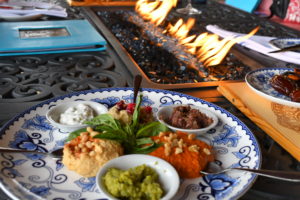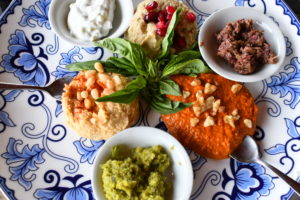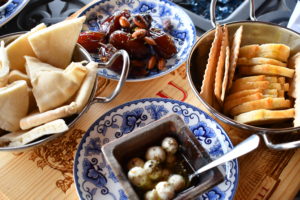 We were also given a tour of the property, including a trip up to the bell tower.  Lucky for us Micah is also a burgeoning photographer, who snapped a few photos for us!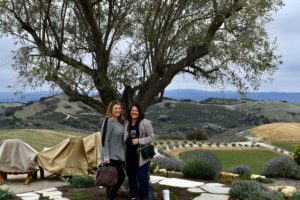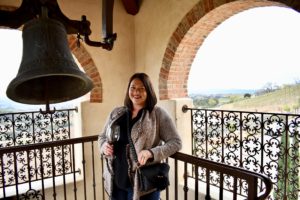 And on to the wine. We tasted too many to write about all of them, but I want to share with you my favorites of the day.
The Daou 2016 Reserve Chardonnay was delightful. With essence of butterscotch and hints of minerality, the Chardonnay was aged in 50 percent new French oak and 50 percent neutral oak. This is a departure for Daou, as previous vintages had heavier oak influence. The result…a Chardonnay that can be enjoyed with a myriad of summertime foods, shellfish and cheeses.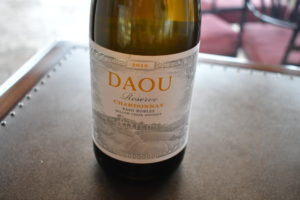 I was excited to try the 2014 Daou Reserve Zinfandel. Living in Lodi, we drink a lot of Zin, but I haven't tried a ton from Paso Robles. This was not the fruit bomb I was expecting. Aged for 18 months in 50 percent new French oak, with medium tannins and a peppery finish, I enjoyed this Zinfandel from Daou. Sadly, this is the last vintage of this wine as the vineyard is being replanted to Malbec.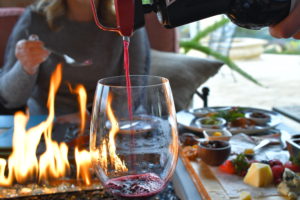 The Daou Estate 2015 Soul of a Lion is a blend of 76 percen Cabernet Sauvignon, 13 percent Cabernet Franc and 11 percent Petit Verdot. This is a big wine, capable of aging for years to come. I look forward to revisiting it in another decade, which is great, because I bought a couple of magnums and 750ml to try again over the years.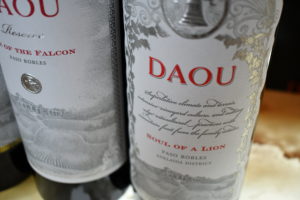 The last wine we tasted through was the Daou 2013 Aux, Reserve. The Aux is a GSM Blend, a signature red Blend of Paso Robles. With 71 percent Syrah, 24 percent Grenache and 5 percent Mourvèdre, this wine was fruit forward, inky, with a solid tannin structure and a smooth finish.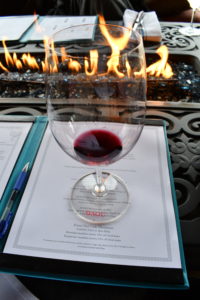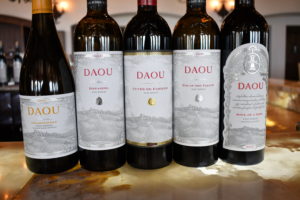 Sadly, after two and a half hours, we had to wrap up our tasting and gear up for our next stop along the trail. Our experience at Daou was unparalleled.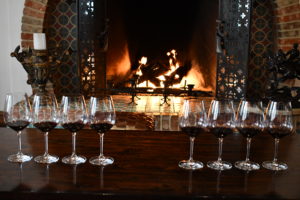 So, the next time you are planning a getaway to Paso Robles Wine Country, be sure to make an appointment at Daou Vineyards. As a foodie with a discerning wine palate, I challenge you to get there soon…you won't be disappointed!
Cheers,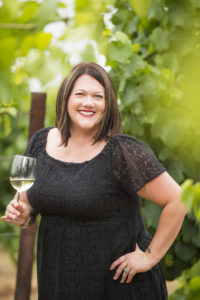 The Fine Foodie Philanthropist
Suzanne Ledbetter