The Ultimate Food and Wine Experience in Lodi Wine Country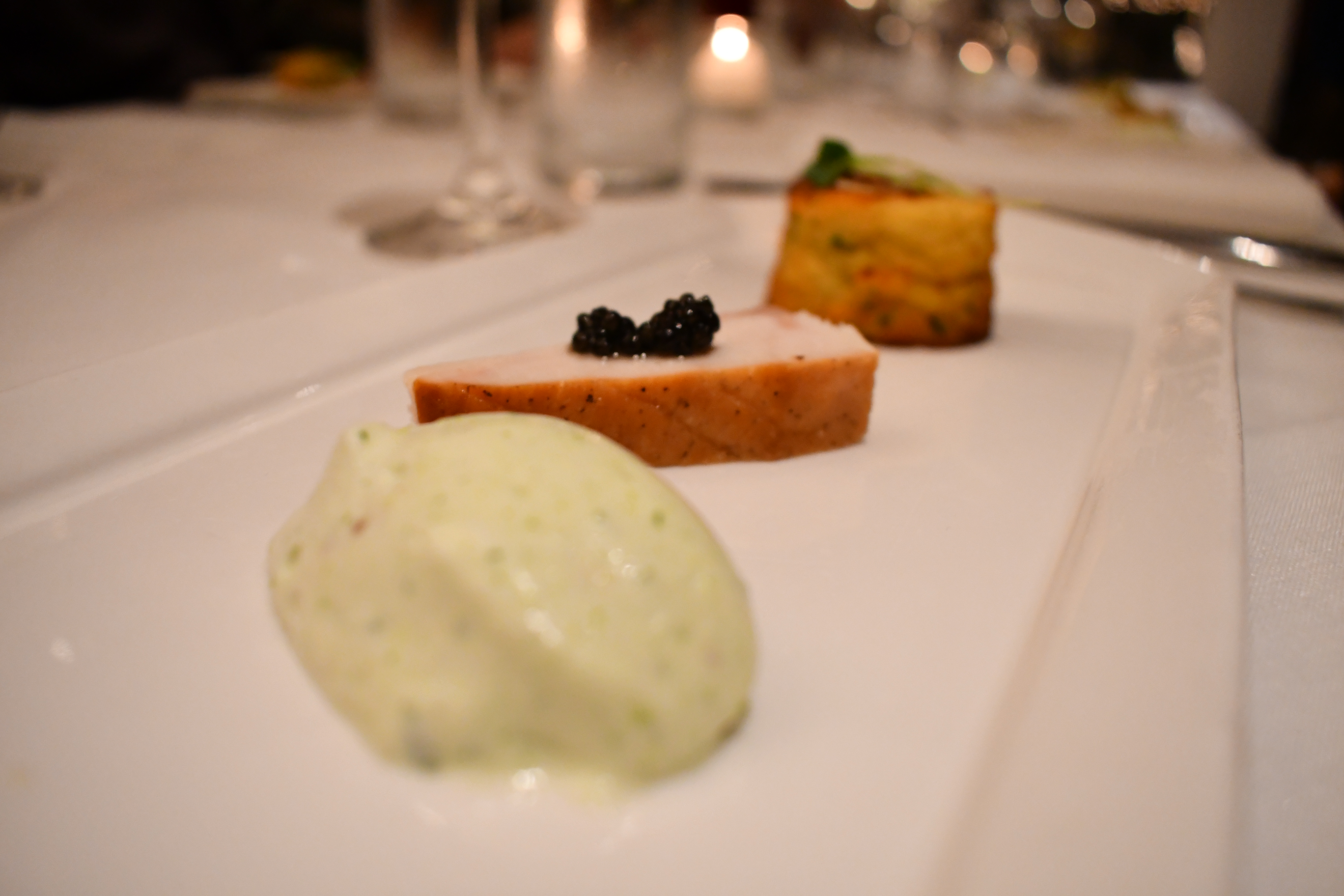 Towne House Restaurant Kicks off the New Year with McCay Cellars Dinner
If you have read my blog, you know I'm a big fan of Towne House Restaurant in Lodi and their running series of wine dinners. Or, if this is your first time here, welcome! And if the first installment of this year's dinners is any indication of how my culinary journey for 2018 will go down, I'm in for a real treat.
The first wine dinner of 2018 featured one of Lodi's premier wineries…McCay Cellars. Owner and winemaker Mike McCay is making waves in the wine world with his sophisticated line-up of award-winning Lodi wine.
So a couple of weeks ago, I was thrilled to head to Towne House for the ultimate Wine Wednesday, pairing six courses prepared by culinary legend Bradley Ogden with six elegant wines from McCay Cellars. And now, for how it went down, and all of the juicy food and wine tidbits from behind the scenes.
The evening launched with a beautiful potato puff, in-house-smoked sturgeon, Passmore Ranch Caviar and an herbed crème fraiche. Chef Ogden crafted the potato pancake from ricing the potatoes and the result was a fluffy, delicate puff to compliment the smoked sturgeon. While I loved the dish, what I found most gratifying was the tangy, herbed crème fraiche that balanced the entire dish, mellowing the smoke on the sturgeon and acting as an excellent conductor for the 2016 Chenin Blanc. The wine is produced in stainless steel using only native fermentation, with essence of crisp stone fruit. It was delightful to drink and the best way to start out our culinary excursion.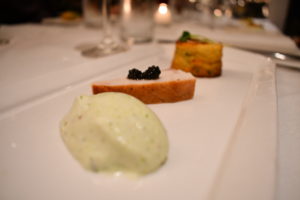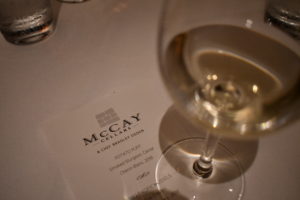 The second course was hands-down my favorite course of the evening. The flavor profile was surprisingly intriguing, with a sweet and savory element from the chipotle glaze that coated the BBQ Pacific mussels. If my taste buds could have done a happy dance, this is where they hit the dance floor! The mussels were cooked to tender perfection and melted in the mouth. And the rye and brioche crostini with caraway seed was an effective vessel to showcase the bright flavors of BBQ essence. Now let's talk about the wine pairing. This course was paired with the light and refreshing 2016 Grenache Blanc. With just 75 cases made from 3 tons of hand sorted Grenache Blanc, this wine disappears fast, so check out McCay's new tasting room and pick some up before its gone. The grapes are sourced from a vineyard where McCay was able to hand select the rows he wanted to use and his meticulous methods were on display in the glass before me.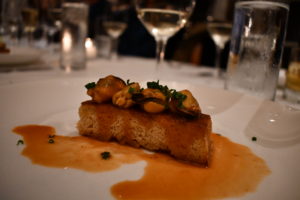 Next up was the third course, which took a page from one of Towne House's staple dishes, the crab cake. Only Chef Ogden reinvented the course to pair with McCay's Reserve Rosé. Ogden carefully steamed fresh crabs and crafted a meaty crab cake with just enough celery and sweet pepper to add flavor. Served with a Meyer lemon aioli, a smoked tomato coulis, kumquats and Kara Kara orange, its bright acidity and fruit components was a delight. I thought the lemon might over power the 2016 Reserve Rosé, but it paired quite nicely. The Grenache based Rosé also contains Cinsaut sourced from the over 125-year-old Bechtold Vineyard. The result is a wine that is cloyingly light, with strawberry fruit, ruby red grapefruit and a beautiful finish. It was pressed in whole clusters with native fermentation in 55-gallon drums. At 12.5 % alcohol, this rosé is definitely one of my favorites.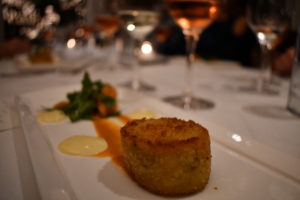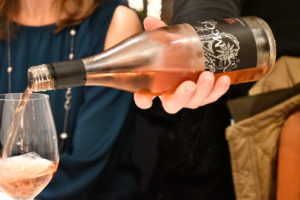 Up next was a big, bold, meaty piece of Colorado Lamb loin, cooked sous vide to 115 degrees. Chef Ogden then wrapped the lamb loin in thin country bacon, seared the meat to a perfect 125 degrees and plated atop cheesy grits with andouille sausage. The grits creamy, flavorful and may have led several guests to request that Chef add them to the regular menu (update: the grits made their official debut last week)! Ogden also hit a home run with the wine pairing, marrying this dish with McCay's 2013 Jupiter Zinfandel. Rated one of the top 100 wines from the San Francisco Chronicle, this wine is fruit-forward with highlights of dark cherry and soft tannins. Sourced from an east side Lodi vineyard, the Jupiter Zinfandel is balanced, with roughly 200 cases produced.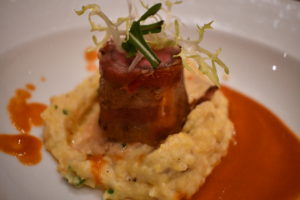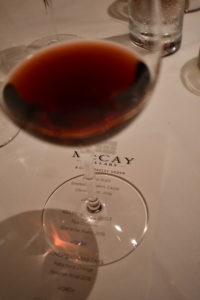 At this point I'm in a food coma, but I know I have two more courses coming out top tease my taste buds, so I brace myself for the rich flavor bomb of beef cheek, fried Kumamoto oyster and tarragon hollandaise. The Zinfandel braised beef cheek absolutely melted in my mouth like butter, only further developed by the creamy tarragon hollandaise. And while I said earlier the mussels were my favorite dish of the night, the delicately fried Kumamoto oyster was my favorite single component of all the dishes. The briny, herbaceous oyster is imprinted in my memory bank for life. And to stand up to the hearty fifth course, they poured the 2015 Bonotto Zinfandel. passion. McCay had the chance to purchase the last eight rows of the Bonotto Vineyard, on the South bank of the Mokelumne River. Traditionally, the grapes had been sold to a major wine producer, but McCay wanted to see what he could do with the fruit and he was thrilled with the results. He describes this wine as defining a true sense of place. The Bonotto is big, rich, juicy and made using native fermentation. Absolutely delicious!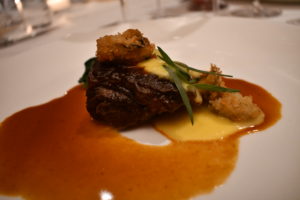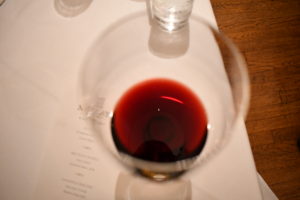 And alas, the final course made its way to the dining room and it's a doozy. The kitchen delivered with a twist on banana foster. Chef roasted fingerling bananas in butter, brown sugar and lemon. He plated them on top of a milk chocolate drunken prune ice cream garnished with crumbled sugar cookie. The bananas, ice cream and crunchy cookies made for the finale of our meal. The dessert was paired with the 2013 Vintner's Blend White of Chardonnay, Grenache Blanc, Albariño, Vermentino and Pinot Noir. While I can definitively say the pairing wasn't a perfect pair, each on its own was worthy of mention. There may have been a miscommunication on which wine would be served to complete the evening, but it didn't affect my reflection of the meal.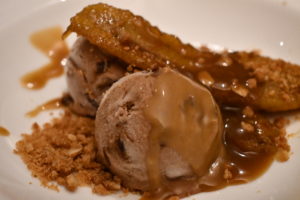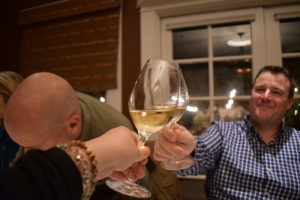 Dinners like this one make me so grateful to live in Lodi Wine Country. It is so rewarding to see the hard work of our wine grape growers, vintners and restauranteurs come to fruition. If you want to learn more about the 2015 Wine Enthusiast Region of the Year, check out Lodi Wine or Visit Lodi for more information. If you think you might be interested in attending one of Towne House Restaurant's Wine Dinners, check their website and social media pages for announcements and upcoming dates!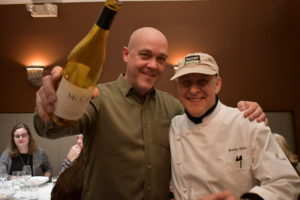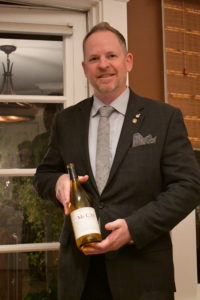 Cheers,
Suzanne Ledbetter
Fine Foodie Philanthropist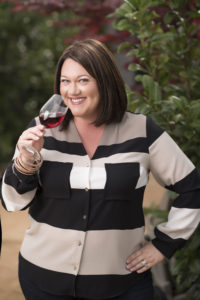 ---