Watch out…two new trendsetters are making waves in Lodi Wine Country: Riaza Wines and Lodi native Chef Nick Guantone are both scoring high marks for elevating the food and wine scene in a MAJOR way!
A couple of weeks ago I had the pleasure of experiencing these taste makers in full effect for a Winemaker Dinner. Held at Riaza Winery, guests mingled and sipped on Verdejo before being ushered to our seats. Now let's get on to the nitty gritty details of the food and wine pairings.
Chef Guantone kicked off the meal with a TKO. Fried Chicken and Caviar-do I really need to say anything else? Well, I will. The chicken was cooked to perfection…crispy, savory and packed with flavor. The crunch of locally sourced Passmore Ranch Caviar paired with the creaminess of the creme fraiche was almost too good. It was paired with the 2016 Bubbly, an elegant sparkling wine made of Verdejo in a true methode Champenoise. MATCH MADE IN HEAVEN!!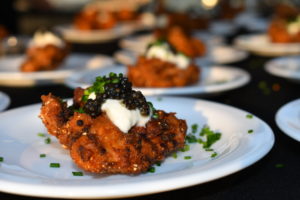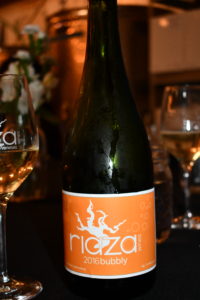 Up next was a delightful salad that had my head spinning. This time of year, heirloom tomato and burrata salads flood local menus. But Chef Guantone delivered a unique spin on heirlooms with his signature salad: fruits and nuts. He brilliantly replaced the typical fat of cheese with a sunflower butter, which served as the base for his creation of Golden Bear Ranch's heirloom tomatoes, stone fruit, melon, padron peppers and sunflower seeds. I literally tried to copy this dish two nights later, to no avail. Maybe after this review he will give me the recipe! The  2016 Irreverent was light and delicate, definitely an easy drinking summertime wine to keep on hand in your fridge. This Garnacha Rosé was pressed off after 12 hours of skin contact and aged in stainless steel for six months.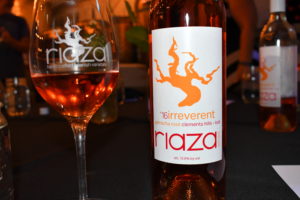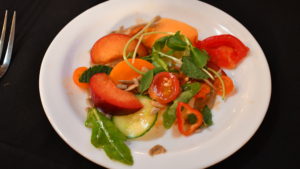 One of the most unique dishes of the evening, was a Salmon 'Nudja, complete with a Chow Chow my grandma would be proud of (she used to make it at the end of every summer and jar it for all of us kids to devour). The herbaceous, salmon played well with the balanced, food friendly Riaza 2014 Esoteric (Garnacha). The addition of local EVOO, corn, chives and radish packed a perfect punch of textures and flavors.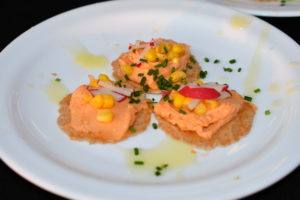 The next dish, a caponata, again highlighted the bounty of fresh produce in Lodi's backyard. The course consisted of smoky eggplant, combined with GBR heirloom tomatoes, summer squash, peppers, basils and pine nuts. The star of this course was the three different types of basil: Genova, Thai and Boxwood Piccolo. Each one lent unique flavor profiles to diner's delights! The caponata was paired with Riaza's 2015 Esoteric, a soft on the palate, fruit-forward Garnacha that I could drink every night.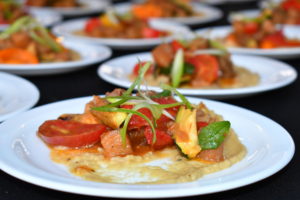 In case you don't know, Guantone is also a regional sales manager for Creekstone Farms, and I could hardly wait to see how the 48-hour short ribs would turn out. The Creekstone Farms beef was prepared with a scallion-black garlic ash and braised carrots. The Riaza 2014 Outsider 2.0 stood up perfectly with the beef. This Tempranillo was aged 18 months in American and French Oak, and shows that this varietal is clearly performing well in Lodi.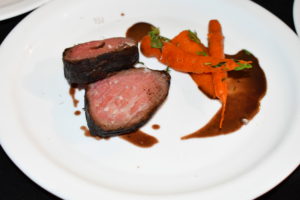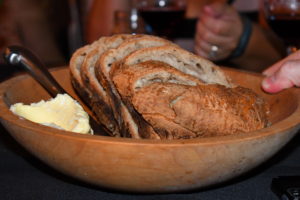 Our sixth and final course, may have actually been my favorite dish of the night. We were served a jar of custard, literally, with maple syrup and Jacobsen Sea Salt. The custard was like velvet and while I said I would NOT eat all of it, I did. So did everyone at my table. The compliment of maple syrup with the flaky sea salt, local figs and delectable cookies (made by Nick's wife, Marissa) was too die for. We washed it down with the 2015 Unorthodox which again, was the perfect match.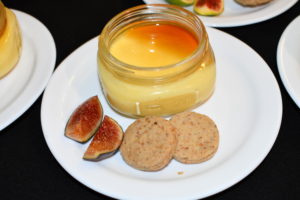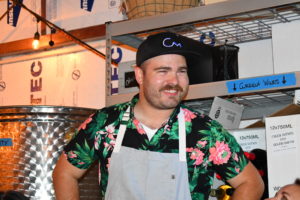 I can't say enough about Chef Guantone and his crew! This guy truly gets fine food, sourcing quality products, pairing dishes with the appropriate wine…and basically putting on a show. Lodi residents and visitors will be seeing a LOT more of this rock star in the coming months!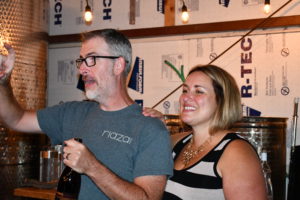 I would be remiss if I didn't talk a little more about Riaza Winery. Owners Rick and Erin Taylor are making waves with their limited production, quality wines. At around 1,600 cases annually, their wines are a perfect reflection of Lodi's ability to grow diverse varietals amongst its seven, sub AVA's. I applaud their enthusiasm and commitment to sourcing local, quality grapes from Lodi.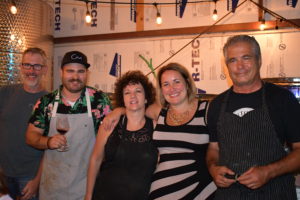 Don't forget to check out Riaza's website and social media pages for the inside scoop on their upcoming events! And I would definitely keep on the lookout for their next Winemaker Dinner.
Until next time friends!
Cheers,
The Fine Foodie Philanthropist
Suzanne Ledbetter