Francis Ford Coppola Rolls out the Red Carpet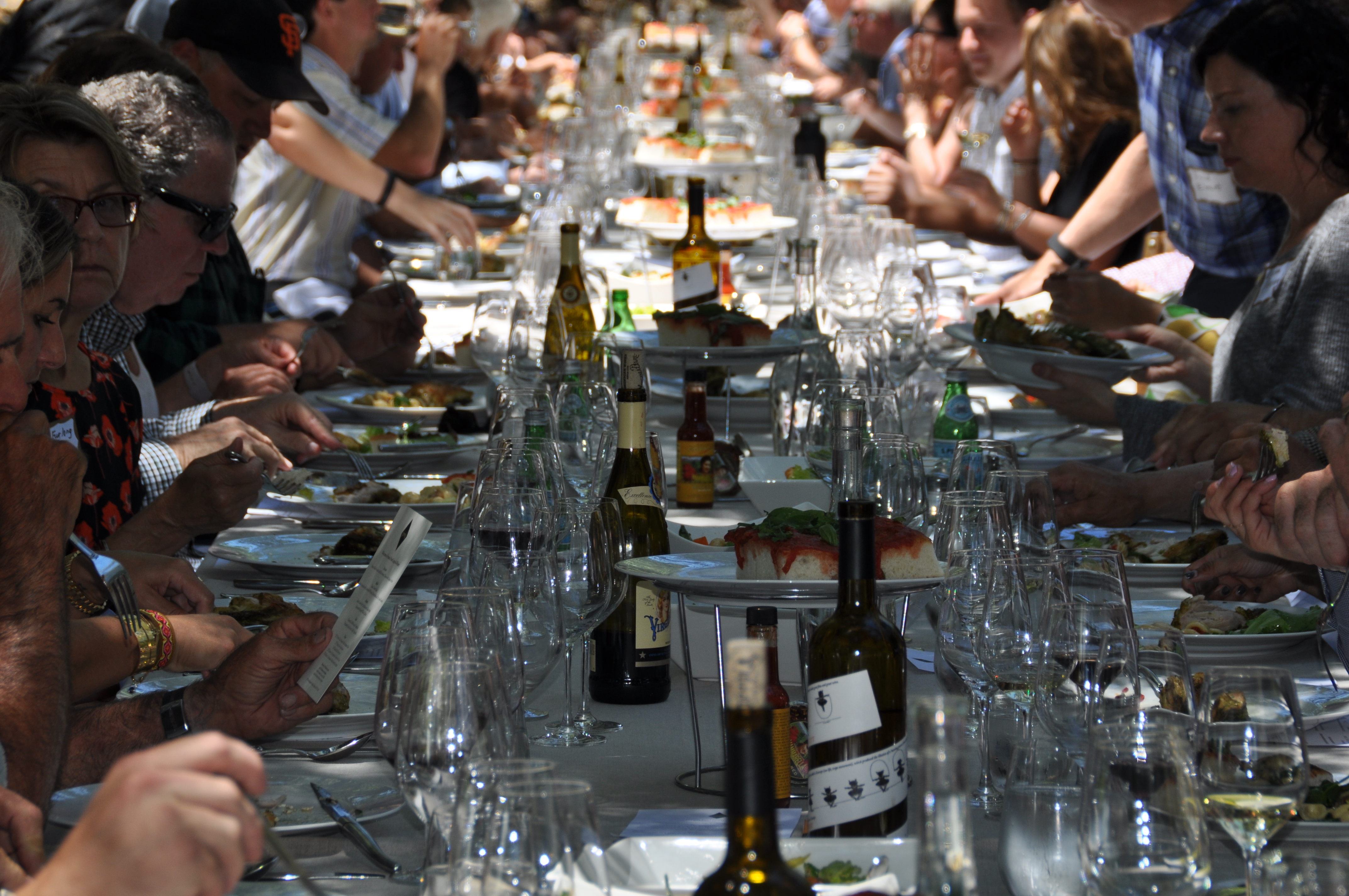 Winegrape Growers Treated to an Afternoon of Fine Food and Wine
Francis Ford Coppola has it all…exceptional wines, amazing architecture, an on-site restaurant, unique gift items, expansive pool, and multiple tasting bars. I rarely head to the Healdsburg area without making a pit stop, or an afternoon basking in all its glory. I mean…it's kind of like an adult version of Disneyland, am I right?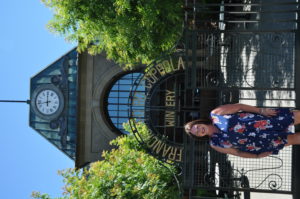 If you are planning a visit, be sure to check out their onsite restaurant Rustic, which offers up a variety of classic dishes from their wood-fired oven including the crispy skin Chicken Mattone (commonly referred to as a Chicken under a Brick), Neopolitan Pizzas and Marrakesh Lamb.
I would also suggest you make a visit during the summer months to take advantage of the pools totaling 3,600 square feet of bliss. Complete the ultimate experience by renting a private cabines for the day and checking out the circular bar for your pleasure!
But my most recent visit had a purpose…and I want to share with you all of the details!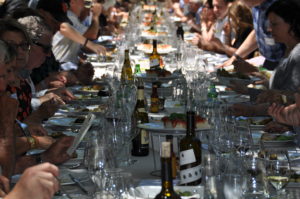 On an unusually warm day in May, Geyserville's Francis Ford Coppola rolled out the red carpet for its winegrape growers! Any chance I get to accompany my husband to an industry event is a no-brainer! In case you haven't checked out the Fine Foodie Philanthropist before…food and wine are two of my favorite things in this world and I knew this event would be an incredible day to experience both!
My husband's family business is a grower for Francis Ford Coppola and each May, growers from around the state gather for an informative, but fun day highlighting the happenings of Francis Ford Coppola Wines. While the growers were updated, I headed to the portable kitchen to find Chef Tim Bodell for a behind the scenes tour of the day's culinary treats!
Culinary Director and Executive Chef Tim Bodell welcomed me alongside his staff and I had so much fun observing them. He coached his team of culinary specialists to a home run! I was immediately taken to his kind and nurturing nature, not at all Gordon Ramsey in an episode of Hell's Kitchen!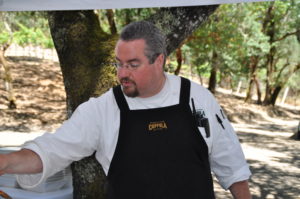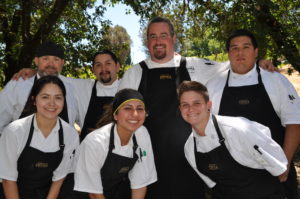 To start us off, guests were gathered among the rolling hills of Geyserville vineyards. They poured wines from several of their collections, specifically the Directors Cut and Virginia Dare brands (check back soon for a blog on Virginia Dare). Well, truth be told, I'm a sucker for a Chardonnay, and their 2015 Director's Cut Russian River Valley Chardonnay hit the spot in the scorching heat. On the other side of the spectrum, my husband really enjoys the 2015 Director's Cut Alexander Valley Sauvignon Blanc. The 2015 Virginia Dare American Pinot Noir, Russian River Valley was also a treat to taste!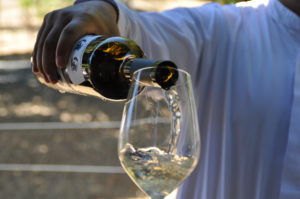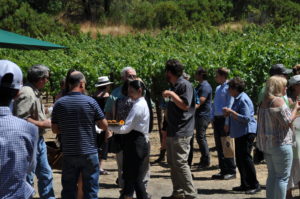 Chef Bodell offered two appetizers with knockout flavors! First up was an arancini stuffed with pork and accompanied by the most perfect Romesco sauce.  We were also treated to a gorgeous herb cheese spread on a toasted baguette with ratatouille style veggies! The colors were striking and seriously packed a punch in my mouth…a fantastic start to any meal! In fact, I would LOVE to get my hand on the arancini recipe. I wonder what that would cost me????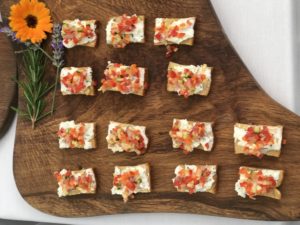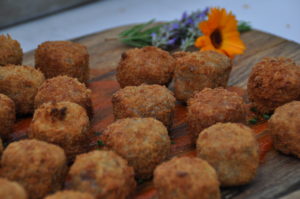 Next, growers were ushered to a grove of oak trees nestled among grapevines, at two long tables simply decorated in neutrals.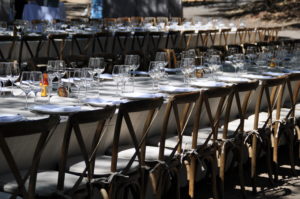 The culinary team presented growers with a gorgeous, family-style luncheon highlighting the on-site organic herb and produce garden. My personal faves were the House Made Focaccia With San Marzano Tomatoes, the Hand Carved New York Steak with Salsa Verde and the Orecchiette Pasta Salad with Grilled Vegetables.there was more…a lot more. But for brevity's sake, I'll share the photos of my favorites!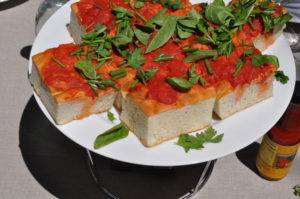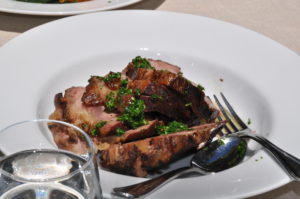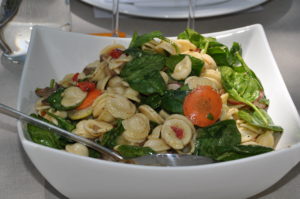 Bottom line, if  you haven't been, you need to take a visit to Francis Ford Coppola for a tour of their expansive grounds and their incredible views!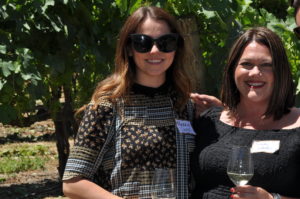 And seriously…could we ask for a better business than Francis Ford Coppola to provide with our grapes? There were at least a dozen winegrape growers from Lodi that shared the beauty of the day with us! How cool is that? The wine community may seem large, but we are all in partnership to bring the BEST product to the market!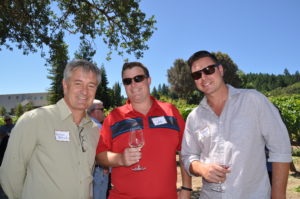 A big thank you to Francis Ford Coppola and their grower relation's staff for the beautiful luncheon, down home hospitality and for allowing me behind the scenes! Check back soon for details on our visit to Coppola's sister property, Virginia Dare!
Cheers,
The Fine Foodie Philanthropist
Suzanne Ledbetter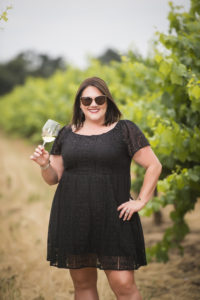 ---