Each year my husband and I host some of our dearest friends for the ZinFest weekend in Lodi. With over 80 wineries in the Lodi region, choosing our itinerary can be a tough gig, but someone has to do it! While ZinFest is in full swing, we like to take the opportunity to stop by some of our favorite Lodi wineries for a quick tour before heading to Lodi Lake.
We chose to reserve a Limo bus to transport us on our jaunt around Lodi wine country…because, well, it is the smart thing to do. There were only 7 of us this year, but its always nice to be able to chat with your friends while rushing from winery to winery.
Our first stop of the day was to Acquiesce! Acquiesce Winery and Vineyards is Lodi's premier all-white wine winery that specializes in Rhone varietals with attention to detail. When I called to make a reservation for tasting, the owner, Sue Tipton, was the person to call me back to schedule our appointment.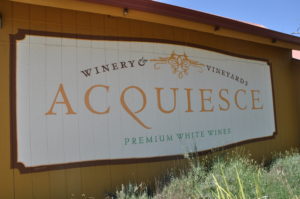 This is one of the qualities that sets Lodi apart from other regions…the winemakers and/or owners  are often in the tasting rooms. And they are down right friendly, often offering a behind the scenes approach unique to the Lodi AVA. But I digress.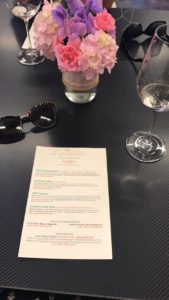 When we arrived to Acquiesce, the table was set for our group of seven. The table was complete with fresh flowers and a wine menu letting us know what we would be trying that day. Behind us was the infamous Before I Die chalkboard, that offers guests the opportunity to share with the world their dreams and hopes for the future.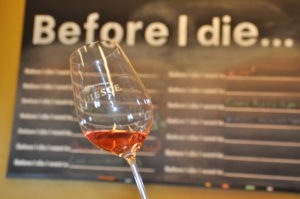 We settled into our seats and began our tasting with the Picpoul Blanc, which loosely translates to lip stinger. Its bright acidity was a perfect way to begin the day of tasting. We were then guided through a flight of wines perfectly paired with small bites. Sue Tipton showcases the symbiotic relationship between food and wine in each and every detail of the tasting experience.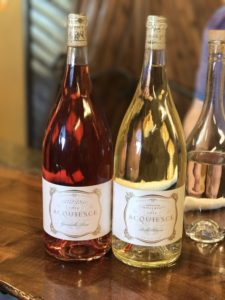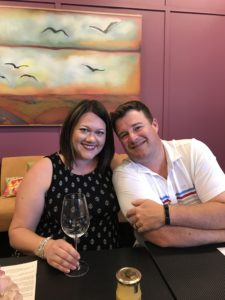 At the conclusion of our wine tasting, I inquired about the wine club (it has been closed to for years). We were told they had recently opened up the club for a limited time. As members of our fair share of Wine Clubs throughout California, we knew we had to jump at the chance to join Acquiesce's club! We did…and now I can count on consuming Acquiesce all year long!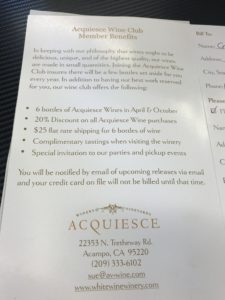 Next up, our group traversed to LangeTwins Family Vineyard and Winery. LangeTwins is a monster of a facility. We walked past the cascading waterfalls, meticulous landscaping and concrete pathway to enter the tasting room, where we would begin our tasting. We were greeted by Shelly, who kindly guided us through the assortment of wines highlighted that day. Our group fell in love with the Nero d'Avola with hints of black cherry! This particular bottle is a winery exclusive, so you should start planning your trip to Lodi now!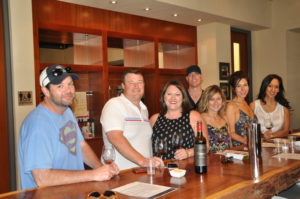 If you have read my previous blog posts, then you know I am a fan of how this family operates their winery and vineyards. LangeTwins is a leader in the sustainability movement in Lodi and beyond. Their stewardship has resulted in some of the industry's most notable awards, including the 2006 Leopold Conservation Award and the 2014 BRIT Award of Excellence in Sustainable Winegrowing.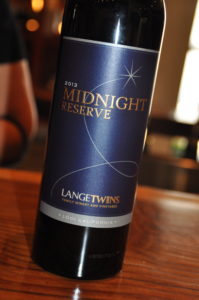 By now, our stomachs were growling and we knew where to get our grub on…ZinFest! Our driver dropped us off at Lodi Lake and we rushed inside to the ZinFest Cooking School. A good friend, and sponsor of ZinFest, Fiorella Avina of Italian Eats, was on stage to cook her famous Italian meatballs. She was a natural on stage, bantering with Teo Torres of KCRA news, while mixing, searing and serving meatballs to an eager audience of 100. The Lodi Winegrape Commission paired her pork meatballs with the 2015 Michael Klouda Wines Stem Theory. The wine is made of 70% Cabernet Franc, 25% Cabernet Sauvignon and 5% Petit Verdot. The addition of grape stems into the fermentation process gives this wine a unique and distinct flavor worth trying.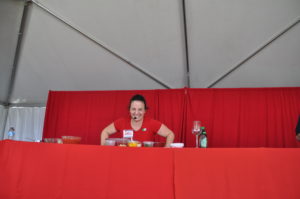 We perused some of the food booths and shared one of our favorite local caterers, Addy's Paella. Other members of our group grabbed oysters, polenta and stuffed focaccia. We ponied up to wine booths to sample some of Lodi's award-winning wine and talked to the vintners/winegrape growers who make the magic happen.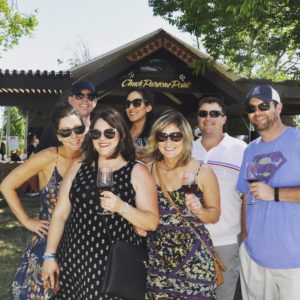 The scenery at ZinFest can't be beat. From picnic tables to pop-up lounges with live music, there is something for everyone at ZinFest. Couples relaxed on the lawn overlooking Lodi Lake, some found a tucked away corner of the park to chill and others gabbed it up in the middle of the mayhem. Guests posed for pictures with friends, met the faces of Lodi Wine and most importantly, enjoyed a beautiful day exploring all that Lodi has to offer. If you haven't been to ZinFest, you should definitely join us next year!
Last up on our packed agenda was a dinner in the privacy of our own backyard. We called in local chef, Jennifer Kupka of the Lodi Airport Cafe, to craft a menu of seasonal food for our out of town guests. Throwing dinner parties is by far one of my greatest joys in life and we were so thrilled with what Chef Kupka prepared…I can't wait to have her back out soon!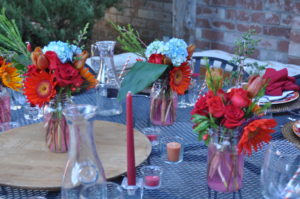 I ended up purchasing some new plates for the dinner because I couldn't pass up the deal at Pier 1 imports! We set the table the night before and made sure there was plenty of wine, water and candles for soft lighting! We decided the food would be served family style, because with this group of friends, it feels like family!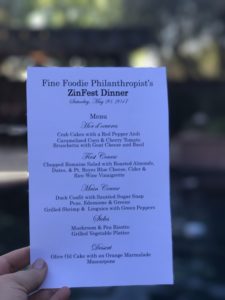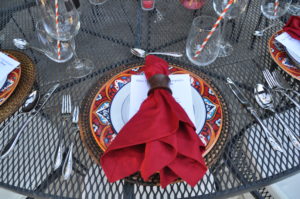 The evening's dinner commenced with two hors d' oeuvres: a crab cake with red pepper aioli and a caramelized corn and cherry tomato basil bruschetta with goat cheese. They were so good I actually had to slap the hands of a few guests to save some for a local couple that was running behind and hadn't arrived yet. My personal favorite was the bruschetta because what isn't to like about tomatoes, corn and goat cheese? It was bright, fresh, and savory all at the same time. It also paired well with the Ledbetter Family Vineyards Sauvignon Blanc and Acquiesce Rosé on the table.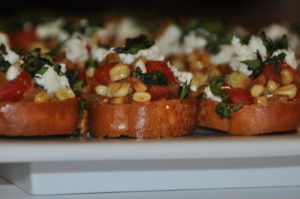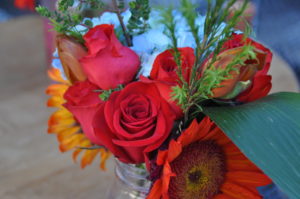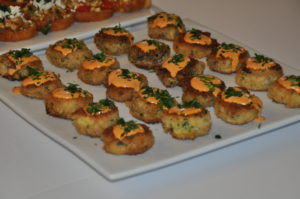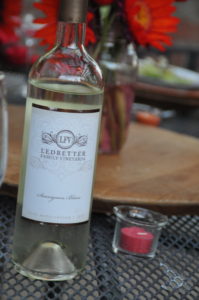 Next up was our salad course, a chopped romaine salad with roasted almonds, dates, Point Reyes Original Blue Cheese and a cider/rice wine vinaigrette. It was lightly dressed, and packed a punch of flavor. If you are familiar with Point Reyes cheese, you know this creamy, pungent blue is perfect for salads.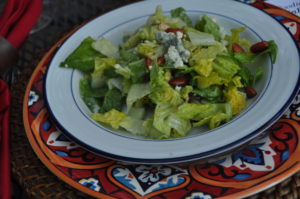 Chef Kupka then transitioned us to our main courses, which were executed perfectly and were by far my favorite part of the evening. First up was grilled shrimp and linguica with green peppers, garlic and white wine. It was served with crusty crostini to sop up all of the garlicky goodness in the bottom of the pan. The shrimp was out of this world and the linguica added the perfect amount of salt and spice to the dish.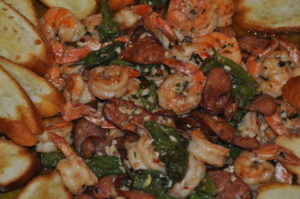 Chef then sent out a delicious Duck Confít with sautéed sugar snap peas, edamame and greens. Duck Confít is a dish my husband I both love, so we were so excited when she offered it as an entree. The duck skin was crisped to perfection while the meat was tender and flavorful. Our two sides included a mushroom and pea risotto that Gordon Ramsay would approve of (for my Hell's Kitchen fans) and a grilled vegetable platter highlighting the produce of the Lodi region.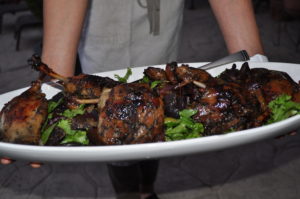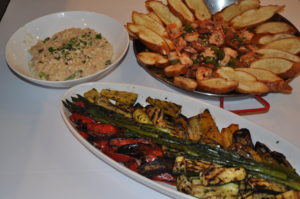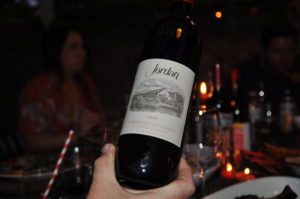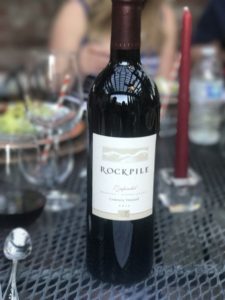 As if we hadn't had enough food, we were then treated to one of the most unique desserts I have had the pleasure of tasting. Presented was an olive oil cake with orange marmalade and whipped Mascarpone. I chose it for its variety, and because I didn't want something too heavy for us to finish our meal. It was an elegantly light cake, garnished with rosemary and brushed with the marmalade to sweeten it ever so slightly. The whipped Mascarpone was simply the cherry on top!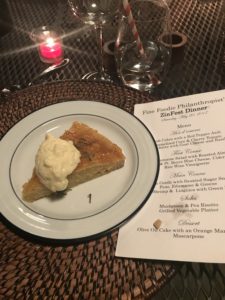 The evening was a huge hit! Or for that matter, the weekend was a huge hit! We laughed, we reminisced, we imbibed. There is nothing quite like catching up with old friends over amazing wines and incredible food. Our annual ZinFest weekend is now a thing of the past, but we have next year to look forward to and this year's experiences to sustain us until then.
Cheers to Old Friends, Great Wines and Fine Food!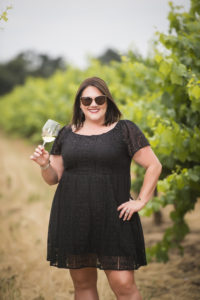 Fine Foodie Philanthropist
Suzanne Ledbetter