Two weeks ago I had an opportunity to spend a few hours in the kitchen with a world renowned chef right here in Lodi, CA. Over these past couple of weeks I have reflected on what it meant to me and my future with this blog. Anyone that knows me, knows my late father loved to cook. Every time we went to a fine-dining restaurant, my father asked for a tour of the kitchen. While admittedly, it embarrassed me a bit, it piqued a curiosity for the culinary arts and those gifted masters of the craft.
Rewind to a few months before I started this blog, and Towne House Restaurant, the on site restaurant at Wine and Roses in Lodi, announced the hiring of Chef Bradley Ogden as Culinary Director. This was a huge move for a Lodi establishment, and one that locals and tourists alike were thrilled to hear. Chef Ogden is a James Beard Award winning chef. He is the man behind One Market, Yankee Pier, Lark Creek, and Bradley Ogden in Caesars Palace, Las Vegas.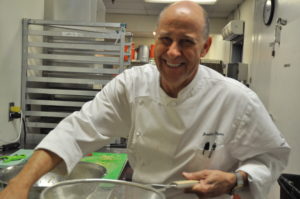 Shortly after his hiring, they launched a series of four wine dinners that Chef Ogden would pair with four local Lodi wineries. Unfortunately, I missed the first dinner featuring Michael David Winery, so I immediately signed up for the next three. I was so excited to experience a winemaker dinner highlighting Bokisch Vineyards wines. Knowing it would be great fodder for the blog, I asked the owners of Wine and Roses, Russ and Kathryn Munson, if I might be able to take some pictures and observe Chef Ogden during the meal prep for the wine dinner.
Long story short, they invited me into the kitchen and I introduced myself to Chef Ogden. His Midwestern hospitality settled my nerves as he welcomed me in and immediately showed me around his prep station, complete with diagrams and lists taped to a wall as a sort of working checklist.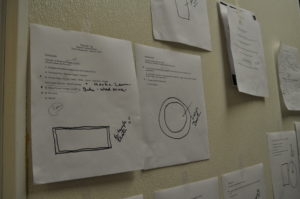 I spent the next few hours asking him questions about his culinary perspective, influences and techniques. I watched him work meticulously with each course, crossing items off of his blueprint on the wall. I watched him guide the other chefs in the kitchen with just enough authority to get the job done well but also allow them to use their own creativity or style in each dish. I watched him tell a story, his story; of growing up in Michigan hunting, fishing and cooking from the land in which he was raised.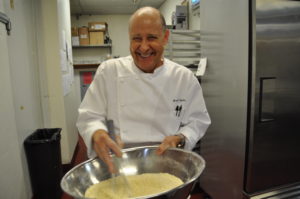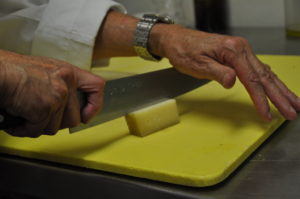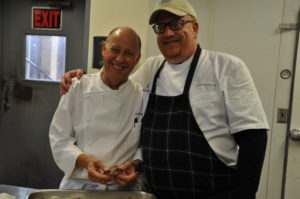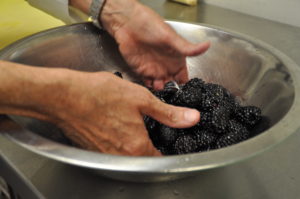 Later that evening, guests gathered at the outdoor patio at Towne House Restaurant where we were seated under market lighting and monstrous magnolia trees. There were two parallel farm house tables simply set for guests. Hosts Markus and Liz Bokisch of Bokisch Vineyards and Russ and Kathryn Munson each grabbed the seats at the head of the table to guide attendees through the dinner. The rest of us all settled in, becoming fast friends, chatting about Lodi's incredible rise as a wine region and our favorite travels around the world.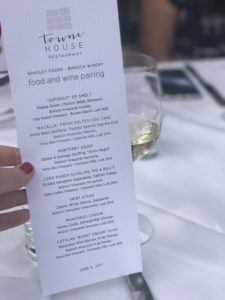 The professional staff at Wine and Roses began to pour our first wine of the evening, Bokisch Vineyards 2015 Clay Station Vineyard, Borden Ranch Verdejo. Moments later, Chef Ogden greeted guests with our first dish, a Sofregit of Smelt with an organic cornmeal crusted Vidalia onion, julienned chorizo salad and a simple, but flavorful Romesco sauce.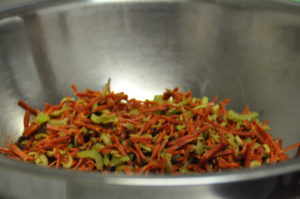 If I am being honest here, I had never eaten Smelt, but I am game for anything, and Chef showed me how he soaked them in milk and dredged them in cornmeal. They were caught fresh from the Bay that morning and I couldn't wait to try them!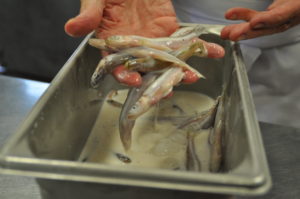 I was mind blown. The smelt rested delicately on a baked tomato vinegar crostini topped in micro greens and served with a chorizo salad of olives, celery, herbs, lemon and vinegar. The dish was packed with flavor, and the crispy crunch of the Smelt was a dish I will never forget. It also was a perfect match for the Bokisch Verdejo, a light and beautiful white wine, which has become a definite favorite of mine.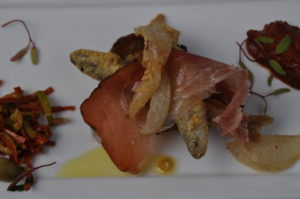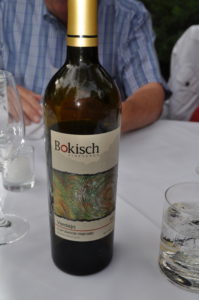 Our second course was a Bacalla Fresh Salted Cod Cake garnished with a white bean Samfaina, and a toasted Spanish paprika aioli. This course was paired with the Bokisch Vineyards 2014 Terra Alta Vineyard, Clements Hills Albarino. Earlier, Chef Ogden showed me how he brined the cod for two days with salt, kefir leaves and lemon peel from an orchard just down the road. He loosely molded the cod into cakes with potatoes, onions and herbs.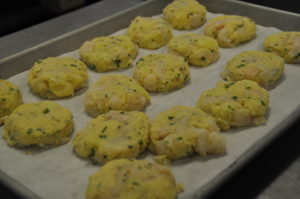 The cod cakes were then seared in a healthy amount of butter, until they turned a beautiful golden brown before he finished them in the oven. The white bean Samfaina was cooked much like a ratatouille, with capers, garlic, zucchini and tomatoes. The thinly sliced garnish of lemon peel and parsely salad complemented the bright acidity of the Albarino. You could tell there was a deep understanding of food and wine.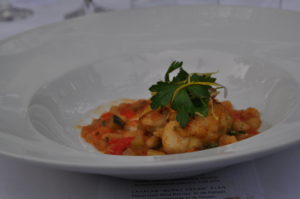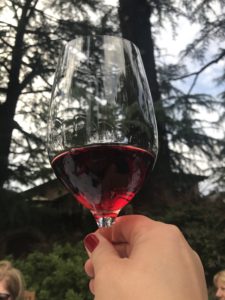 Next up was the third course of Monterey Squid served with an Oyster and Sausage Stuffing and "Arros Negre." Squid is a Spanish staple and was perfect match for the Bokisch Vineyards 2014 Terra Alta Vineyard, Clements Hills Garnacha. The Granacha is a medium-bodied, bright crimson wine with rasberry and wild stawberry notes.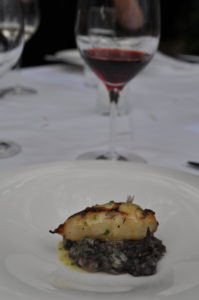 Personally, I think pork is a gift from the heavens…so I was so excited for the fourth course of Long Ranch Suckling Pig and Pork Belly with pickled samphire vegetables and saffron fideus. Chef told us of his venture a few miles south of Lodi to Long Ranch, where he picked out the perfect pig for the dish. He marinated the suckling pig in an ancho pepper rub, and local roasted stonefruit.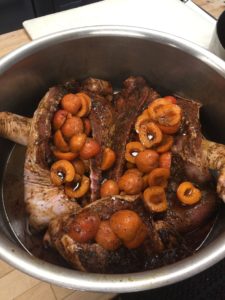 The Pork Belly was brined and rubbed with in house BBQ and sweet and sour sauce. Surprisingly, my favorite part of the course was the samphire pickled vegetables with saffron, carrots and celery. The golden color of the veggies was kin to a culinary magic trick. I also loved the creative use of fried noodles as a garnish for texture. Bokisch winemaker Elyse Perry addressed the dinner guests with details of the Bokisch Vineyards 2014 Belle Colline Vineyard, Clements Hills Monastrell. This was one of my favorite wines of the night, with a soft and round finish, dark cherry fruit and hints of vanilla. What made this wine so special was the fruit, and sadly, 2014 was the last year of production for this vineyard. My tip of the day would be to visit Bokisch Vineyards immediately and pick up a bottle before it is all gone.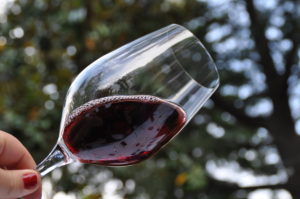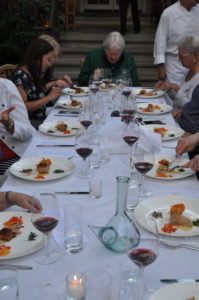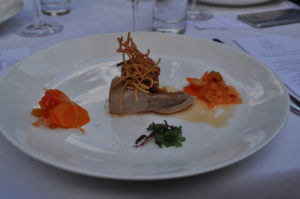 At this point, we all needed a walk around the block, but the staff at Towne House swiftly rolled out with the fifth course. We were treated to Skirt Steak marinated in capers, golden white raisins and gazpacho. When Chef Ogden showed me the marinade, I was reminded of how golden raisins were the special treat for kindergarten snacks of my childhood. They were abundant in the Central Valley growing up.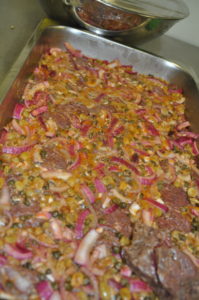 Markus then explained how in Spain, locals love to sear their skirt steak over a large open flame of vineyard cuttings (if you are in the grape growing business, you may want to remember to save cuttings when redeveloping a vineyard). Towne House Executive Chef John Hitchcock meticulously executed his version of this traditional Spanish dish, with a dark sear on both sides, leaving the interior of the steak a tender medium rare. And…if you are going to have a traditional Spanish dish, you must pair it with one of the most well known Spanish varietals, the Bokisch Vineyards 2014 Lodi Tempranillo. The deep purple hue of the wine lent itself to flavors of dark plum, and bing cherry with hints of smoke and dark chocolate. It is delicious and can be enjoyed now or for years to come.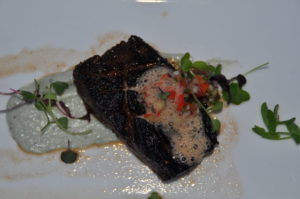 And just when you think dessert is on its way, Chef Ogden surprised us with a cheese course of Manchego Cheese. It was appropriately paired with a beautiful honeycomb courtesy of Golden Bear Ranches just a couple of miles from the restaurant. Also with this course was an almond milk shooter. The Bokisch Vineyards 2014 Graciano is Markus Bokisch's favorite variety and one can certainly understand why. The wine is deep in color with an earthiness and bold juicy fruit. By the sixth course I am left realizing that Bokisch Vineyards are masters of their craft and ask myself why we haven't joined the wine club. I make a mental note to sign up immediately.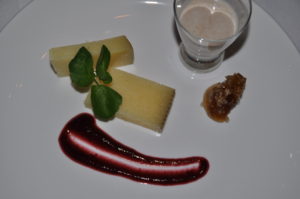 For the final and seventh course, the culinary team presented a Catalan "Burnt Cream" Flan with macerated wild berries, a reduction of Vi de Panses and micro-lavendar greens for garnish. Earlier in the day, I watched as Chef Ogden marinated the local berries and worked with the pastry team to execute this course. The berries were plump with wine and bursting with sweetness. Naturally, the course was served with the Bokisch Vineyards 2015 Terra Alta Vineyard Clements Hills Vi de Panses. This wine has hints of honey, apricot, orange and caramel, that made for the perfect ending to our multi-course meal. And with only 16 cases produced, you can understand why this vintage is sold out.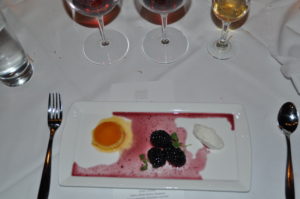 After dinner, the small crowd mingled and gathered for pictures with the chefs, winemakers and owners. It was a memorable evening, and one that needed to be captured on camera.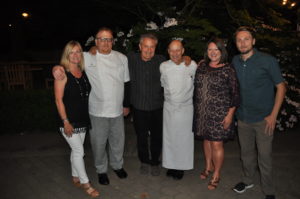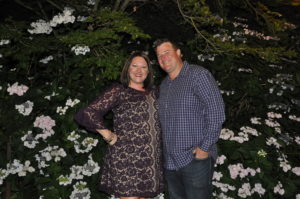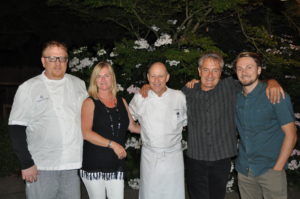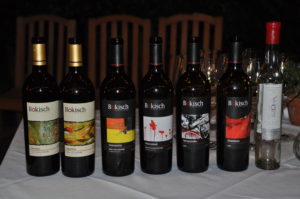 In reflecting on the wine dinner, I am amazed at how Chef Bradley Ogden, whose culinary perspective leans heavily toward New American cuisine, executed a beautiful Spanish meal of seven courses. Then again, I shouldn't be. I guess I just can't imagine LeBron James hitting a home run on the baseball field, but Chef Ogden did just exactly that. I am also more impressed than ever with Lodi Wine's Bokisch Vineyards.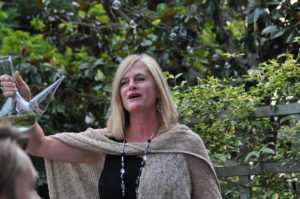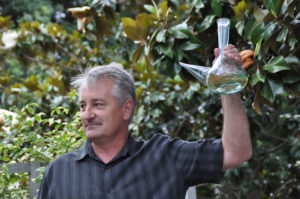 Lodi is so blessed they decided to set up shop here after years of learning the trade of grape growing and winemaking. It was such a treat hearing them tell their story and how they forged their way into the top tier of the Lodi wine industry. If you want to learn more about their history, I suggest you join their wine club! Rumor has it they throw a heck of a pick up party!
Cheers,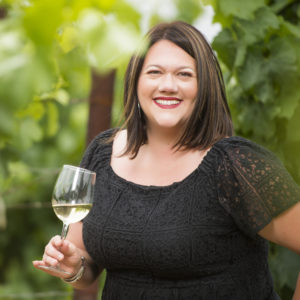 Fine Foodie Philanthropist
Suzanne Ledbetter