With harvest in Lodi Wine Country winding down, I finally have a some time to share some of my most recent food and wine adventures with all of you! A few weeks back I joined a few dozen foodies for an over-the-top Harvest Winemaker Dinner at Fē•nix featuring Lodi's premier Spanish varietal producer Bokisch Vineyards.
A brisk breeze made for the perfect evening for a stroll through downtown Lodi's brick-lined streets to my dinner destination. Upon arrival, Liz Bokisch greeted me and showed me to my seat at their table. I immediately grabbed my camera from its bag and proceeded to the hors d'oeuvres. Chef Richard Hyman had prepared Hamachi Crudo with a Yuzu Kosho and delectable Duck Confít Spring Rolls with a Thai Chili dipping sauce. The bites were matched with the  2015  Bokisch Albariño from the Terra Alta Vineyard.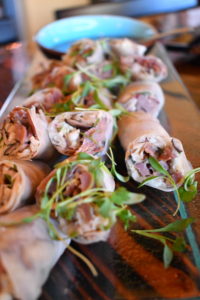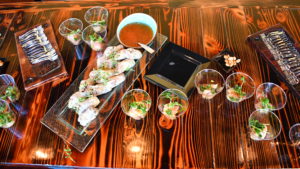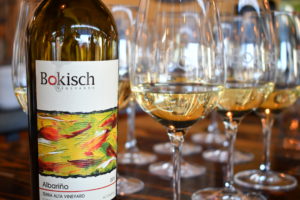 I eagerly grabbed one of each to taste. I tried both dishes independently with the Albariño and rolled my eyes in satisfaction. I'm a sucker for Duck Confít, so I helped myself to one more spring roll. I knew I was in for a treat and snapped a few more pictures of guests mingling!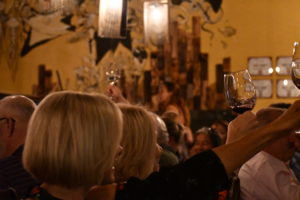 As we headed to our seats, the staff began to deliver the first course, a Suzuki Sashimi with watermelon, herb emulsion and Spanish olive oil powder. This dish was almost too pretty to eat. ALMOST. Seriously, the brininess of the fish partnered with watermelon made for the perfect bite. My favorite element of this dish was the herb emulsion. It was bright, well balanced and grassy. Chef paired the sashimi with Bokisch Vineyards 2015 Garnacha Blanca. Chef Hyman clearly knows how to marry flavors.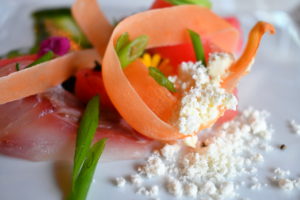 The second plate to come out of the kitchen was life changing. Chef Hyman prepared seared Foíe Gras with a caramelized pineapple and spiced orange gel. Hyman partnered this course with the 2014 Bokisch Garnacha. I can tell you definitively…this was my favorite dish of the evening, and my favorite pairing too! The clove and spice brought out flavors I had never tasted before in Bokisch's Garnacha.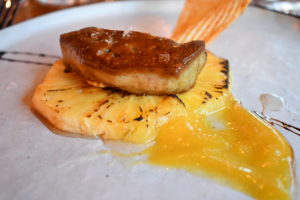 The wine was flowing when the third course came out of the kitchen. We were presented with a coffee rubbed prime filet of beef with a porcini cauliflower risotto. The tender beef was cooked to perfection, but what I really loved about this dish was the cauliflower risotto.  There is something to be appreciated about a chef who can think outside of the proverbial steak and potatoes box, while delivering a delicious dish sans starch! Hyman teamed the beef with the 2014 Bokisch Tempranillo. Inky and ripe with dark berries, the Tempranillo stood up to the filet with fortitude.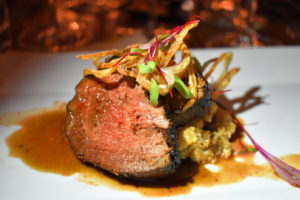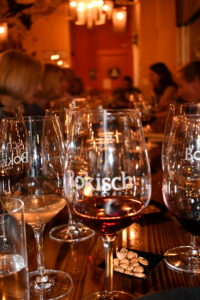 At this point, I'm pretty much stuffed, but I had to try the house-made pappardelle pasta with Superior Farms Lamb Sugo and finished with shaved Pecorino. The pasta was executed al denté and the lamb sugo paired well with the 2014 Bokisch Graciano. I've discovered that this is one of my favorite Lodi wines. Apparently I'm in good company, because rumor has it the graciano is Markus Bokisch's favorite wine, as well.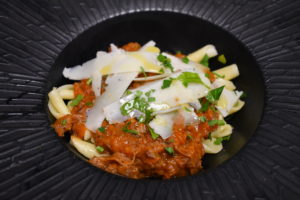 I will admit up front that I am a chocolate lover, so I was hesitant to give the dessert course a chance at fulfilling my sweet tooth. But I was so wrong! Chef turned out a perfect blueberry and strawberry shortcake with spiced Chantilly crème. I loved the generous sprinkling of sea salt on the crust of the shortcake and the crème was the perfect accompaniment to the 2015 Bokisch Tizona Late Harvest Graciano.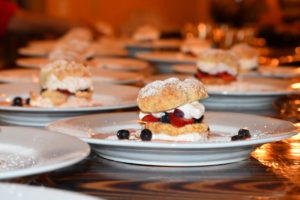 The evening was so much fun, gathering with friends for an evening of fine food and wine! Chef Richard Hyman's skills were on full display for this wine dinner, and I was so impressed! The food did NOT disappoint and I can't wait to get back for another visit.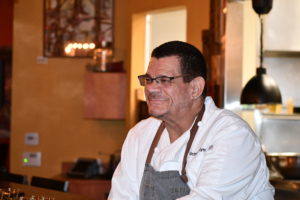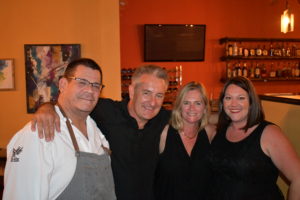 I would also be remiss if I didn't talk about Markus and Liz Bokisch! They are the most hospitable folks and they make such incredible Spanish wines in the Lodi region. Their award-winning wines have played a huge role in putting Lodi Wine on the map. If you live in Lodi or are planning a visit to Lodi Wine Country, make sure you stop into Fē•nix for fine dining with a flair in downtown Lodi.
Cheers,
Suzanne Ledbetter
Fine Foodie Philanthropist