There are winemaker dinners and there are LangeTwins Winemaker Dinners. To launch Lodi's most popular wine festival weekend, LangeTwins Winery stepped up their game in a BIG way! They flew out James Beard nominated Chef Molly McCook of Ellerbe Fine Foods and her partner, Richard King, to create a one-of-a-kind meal for tourists and locals alike. I mean…how awesome, right?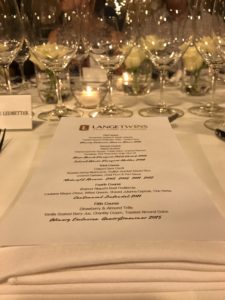 The night was epic! We were treated to five courses paired with nine of LT's award-winning wines, most notably a vertical tasting of their Midnight Reserve. A trio of string musicians playing in the background with lively conversation among guests.
Held in the winery's Press Room/Barrel Room, attendees were seated at a long table with delicate white roses simply placed in stemless wine glasses, soft candlelight, and 790 wineglasses. Yes, you read that right! It was crazy beautiful!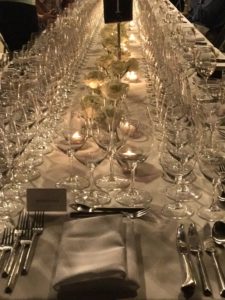 The meal commenced with Kumamoto Oysters over an apple linguine, toasted sesame vinaigrette, frisee and a parsely pureé. The briny, buttery finish of the oysters and tart apple paired perfectly with 2016 LangeTwins Chenin Blanc, only available in the tasting room. I had never tried the Chenin Blanc and I think it is hands down one of my favorite Lodi white wines. You should definitely pick up a few bottles for hot summer days by the pool!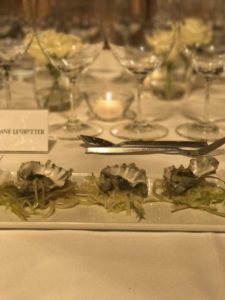 The second course was a Rabbit Boulette with a charred summer squash, purple onion, crushed ripened tomatoes and first press extra virgin olive oil. As a Lodi local, I was thrilled to have a delicious rabbit dish on the menu. They paired the rabbit with the 2005 River Ranch Vineyard Petite Verdot and 2008 Jahant Woods Vineyard Malbec, both beautiful wines.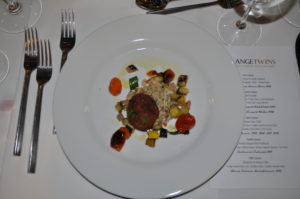 Next up was my favorite course of the evening…the Crispy Duck Confit with roasted spring mushrooms, scallion scented Arborio rice, crushed cashews and a dried plum port sauce. The duck found its match with four vintages of the LangeTwins domestic Bordeaux, Midnight Reserve: 2005, 2006, 2011 and 2012. Tasting these four different vintages was a real treat. My personal favorites were the 2005 and the 2011 vintages!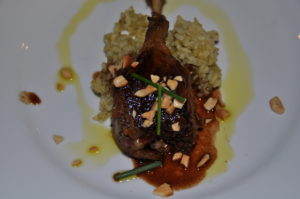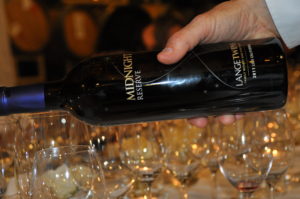 The Fourth course was a Braised Akaushi Beef Profiterole with a Louisiana Maque Choux, wilted greens, shaved julianna capriole and fine herbs. The color and fruit in the 2011 Centennial Zinfandel stood up well with the beef course. I loved the fruit and the color of this wine. In fact, the 2011 Centennial Zinfandel is crafted from the 105th vintage of the Lewis Family Vineyard. This elegant, single-vineyard wine showcases Lodi's most storied varietal…Zinfandel.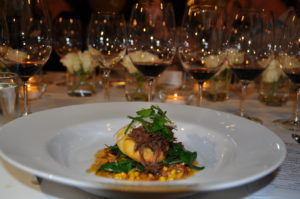 The fifth and final course was a strawberry and almond trifle with a vanilla soaked berry jus, Chantilly cream and toasted almond dulce. The dessert was paired with their 2015 Gewurtztraminer, only available at the winery. It was a refreshing way to finish our dinner.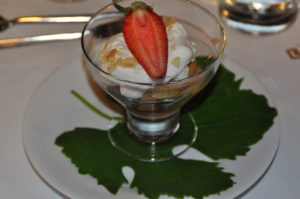 I was so impressed with the quality and execution of the dinner…I wish the folks at Ellerbe Fine Foods would just open up shop in Lodi! It was a pleasure to meet both Molly and Richard and thank them for visiting Lodi. Their talents were greatly appreciated by this local foodie!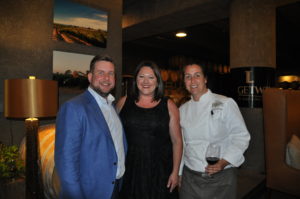 Hats off to LangeTwins for always going the extra mile to elevate the Lodi Wine experience. For more information on how to join their wine club or order the wines mentioned in this blog post head over to LangeTwins Family Winery and Vineyards website.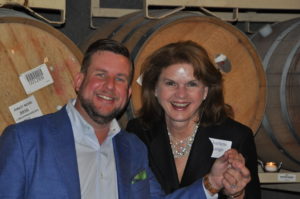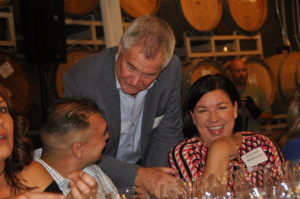 Stay tuned for more behind the scenes of Lodi Wine's ZinFest weekend in the next few days! Thank you for following along!
Cheers,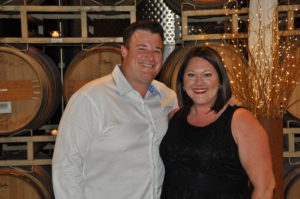 Fine Foodie Philanthropist
Suzanne Ledbetter